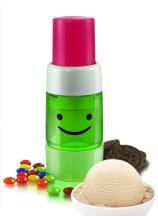 KID01 Mini Chopper Jr.
Inspire your kid's cooking talent
This adorable Mini Chopper Jr. is a great gift idea for kids. The plastic blade automatically rotates safely as your child presses down the hat of the smiley face. It is a user-friendly tool for preparing chocolate chips, peanuts, or chocolate beams to put on top of ice-cream, cornflakes, and cakes. The self-contained base unit is great for tidy and safe chopping. This tool has no sharp blades, and it is fun and safe to use. Using the Mini Chopper Jr. can also inspire your kids' cooking talent and build a stronger parent-child relationship when creating favorite dishes or desserts.


Plastic Blade Design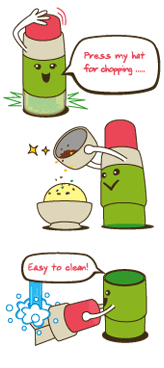 Product size(mm):
65(Dia) x 175(H)
Materials:
Plastic part
ABS (Color parts)
SAN (Transparent parts)
POM (The plastic together with the blades)
PP (Blade cover and container)
Spring inside
Stainless steel (SUS 304)