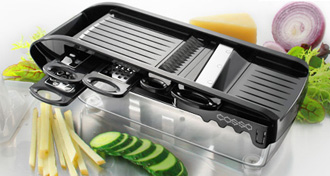 CS18C Multi Box Grater
Perfect for preparing Salad, Sandwiches & Snacks
FEATURES & BENEFITS
Quality: Sharp stainless steel blade slices vegetables with ease.
5 Install Blades: Slicer, Julienne, Wavy slicer, Coarse grater & grater.
Compact design: All Blades & Food holder are conveniently attached in the Main body for compact storage.
Easy to use: Plug and use with ease.
Safety: Transparent food holder allows you to view food while slicing. It can secure the food and protect your fingers.
Easy to Clean: All components are dishwasher safe or hand washable.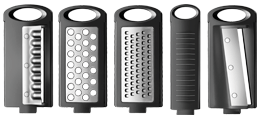 5 Blades install
Product size(mm):
320L x 120W x 95H
Materials:
Plastic part:
ABS (Main Unit, Blade Holder)
PP (Food Holder)
SAN(Food Container)
SUS301 (Julienne Blade)
SUS420J2 (Slicing Blade)
SUS304 (Wavy Blade, Coarse Grater, Grater)