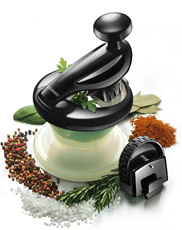 CS09 Flavour grinder
Simply cuts, chops, grinds, and mixes, to great tasting food!
The Flavour Grinder is a fun and quick way to make all sorts of salad dressings, spicy meat rubs for roast, herby marinade for fish and fragrant salt.
Put your favorite herb into the container and then rotate the handle back and forth. This takes the strain off your hand. The stainless steel rolling blade can chop different fresh and dry herbs. The grinder gear can grind a variety of spices, peppercorns, and salt. By adding liquid such as oil, cream, or vinegar mix with your herbs or spices, you can make your favorite dressing and serve it with the container or freeze it with the cover.
As for clean up, no more washing the cutting board and no more mess with herb or pepper all over your countertop. The tool comes apart easily for cleaning in the dishwasher or by hand with soap and water.

Spicy meat rubs for roasts
Herby marinades for tasting fish

makes all sorts of salad dressings
Product size(mm):
124(Dia) x 150(H)
Plastic part
ABS (Handle, Cover Ring and Blade Stand)
PP(Container and Container Cover)
Metal Parts
SUS304 (Pin) and SUS301 (Slicing Blade)